Kentucky Derby Party Ideas
If you are having a Kentucky Derby Party which is the first leg of the Triple Crown, then you have come to the right place.
We are gone to give you Party Ideas on what you should have. There are some must have's at every Kentucky Derby Party.  
The Kentucky Derby is "The Most Exciting Two Minutes In Sports" and is watched by more than 10 million Americans each year. 
So invite a few friends over and get dressed up in your best Kentucky Derby fancy hat and have a Party…………
The Must 3 Have's at any Kentucky Derby Party:
Mint Julep

Red Roses
Even though some horse racing fans don't make it to the largest ce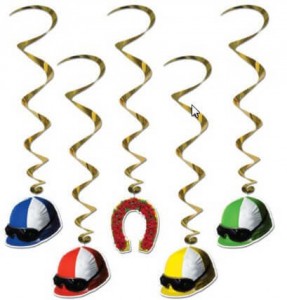 lebration in thoroughbred horse racing, you can create the excitement right in your own home.
So to start off any good party you need some decorates, there are lots of fun Kentucky Derby Decorations
 to put around your party.  
What party doesn't need some Kentucky Derby Icon Beverage Napkins (Pkg. 24)
, Plush Horse Head Hat Party Accessory (1 count) (1/Pkg)
, Horseshoe Fanci-Frames Party Accessory (1 count) (1/Pkg)
,. Guess will love feeling like they are at Churchill Downs in Louisville, Kentucky.
So you ask what is a Mint Julep?
A Mint Julep is the traditional beverage of The Kentucky Derby for nearly a century. To make a Mint Julep just like the bartenders at Churchill Downs this is what you will need.
You will need to make this the night before the big races.  You might want to double the ingredients because your guests will love the fresh mint and Kentucky Bourbon taste.
Here are the ingredients:
2 cups sugar

2 cups water

Springs a fresh mint

Crushed ice
How to make the famous Kentucky Derby Mint Julep?
Make the simple syrup first the night before the big race.  Bring to a boil sugar and water together for 5 minutes. Then you want to add about six to eight sprigs of fresh mint, let it cool first then place a lid on the container and place in refrigerator overnight.  This will make the Mint Syrup you will need for the Mint Julep. 
The day of the derby races you will want to make one Mint Julep at a time. Place crushed ice in a glass, add 1 tablespoon of mint syrup (see above) and two ounces of Old Forester Kentucky Bourbon.  Stir ingredients together and garnish with some fresh sprig mint.  Enjoy!!!!!!!!!!!!!!
We would enjoy hearing about what you do for a Kentucky Derby Party, leave a comment below and let us know how you celebrate the "Big Race"!