How to Win at the Horses 
---
---
For the more experienced players, exotic wagering can be exciting and also be rewarding. Some of the more exotic wagers include the Pick 3,4,5 and 6. 
They will cost a little more upfront but as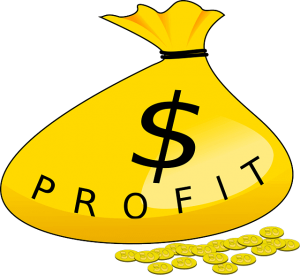 you can see, these types of wagers can result in some nice return on investments.
We have been experimenting with the Pick 3 races recently and although typically difficult to hit it can be done. 
On April 1 at Gulfstream Park, we placed a Pick 3 wager which resulted in a nice payout of $472.30.  The total cost of this bet was only $22.50. More recently on April 15th, we hit another Pick 3 wager along with a really nice Exacta wager. 
Horse Racing Betting Results
---
Horse Racing Betting Results winnings change from the race track, day, type and wager.  You should stay within your bankroll limit and never go out of that because you can start to lose more than you have. 
In order to succeed at a long-term profit, a horseplayer must implement a sound money management plan. Depending on the size of your bankroll, an effective wagering percentage would be to use 1%-2% for your regular wagers and use 3%-4% for the best plays.
Here are some results using different types of wagers that were placed online which provided some nice payouts. We used various wagering techniques which include PS (Place, Show), WPS (Win, Place, Show) to the more elaborate exotic bets such as the EX (Exacta) and a TR (Trifecta).
You don't have to place the same types of bets on every race or even bet on every race because the level of competition and type of races vary.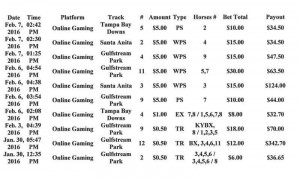 There are times when a simple win, place or show bet can really pay out  The more exotic bets do have a larger payoff sometimes you just have to watch the tote board for odd changes.  
The odds are the major deciding factor in how much you are able to win.  So if you see a horse with odds of 5/1 or higher the payout will be pretty good.
Money Management = Discipline
---
One of the biggest mistakes you can make is totally ignoring a sound bankroll management system and not searching for the value in a race.
The secret is to have the discipline to stick with the money management system and not chasing losses with good money (another trip to the ATM). Keeping a separate bankroll solely for wagering purposes should keep you focused enough to search for value in a race. Again, discipline and willpower are the key!!!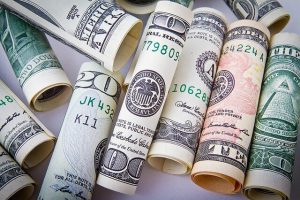 By properly managing your bankroll, you'll be able to withstand any bad streaks without blowing up your entire bankroll.
Once your bankroll has been decided, you'll need to establish the percentage you're going to wager.
Typically the percentage of your bankroll is between 1-5%. Whatever the percentage you feel comfortable with, stick with this theory all the way through for the day.
As an example, let's say you start with a bankroll of $500. Now you've decided to make your betting unit at 3%. So with the first wager, the total amount you place on this race cannot exceed $15.
Wager anyway you'd like, a straight up Win, Place and Show bet or mix in some exotic bets (Exacta's, Trifecta's or even Superfecta's). If you should lose this bet, your bankroll now stands at $485.
So for the next race, stick with your disciplined money management system and wager 3% again (cannot exceed $14.55) thus avoiding making a careless bet to chase the previous loss. 
If you're fortunate enough to attend the races, enjoy the day and stick with that track. If you're watching from home or on a computer or other devices, avoid bouncing back and forth and wagering on multiple tracks. You'd be surprised how fast the bankroll vanishes. 
Summary
---
Establish a bankroll limit

Choose a betting unit between 1-5%

Find value in a race – Studying and reviewing all relevant statistical information in the Daily Racing Form

Stick to one track – no need to play every race or multiple tracks

Maintain discipline and willpower
CONTINUE READING:  Past Performance Symbols