Horse Racing Past Performance Symbols
---
Horse racing handicapping is easier when you understand what Past Performance Symbols mean. Past Performance Symbols can tell you a lot about the horses running style, equipment, and medication use if any when you understand the symbols.
It will also tell you what kind of track the horse has run on (turf, dirt or synthetic) and how well he performs on different surfaces.
Within the Past Performance Symbols, it will tell you if there are any equipment changes in the current race, such as if blinkers are on or off.  If the horse is now using the medication Lasix for the first time, which could possibly improve their performance.  
It will show you when and where the last time the horse has raced and the position she/he finished in.
These are important factors you should take a look at when trying to decide which horse to place a wager on.  First time Lasix can really help the horse perform well in the current race.  
When the trainers or owners want to change equipment they want to help the horse perform to the best of his/her ability.
In the Past Performance results, distances are one of the simplest things to pick out when reviewing a horse's prior races to the current race.  
That is one of the key factors to look at when trying to pick out the horse to bet on.  Horses that race under one mile (8-Furlongs) are referred to as Sprints. Horses that race over one mile (8-Furlongs or more) are referred to as Routes. 
It's always a good idea to check the past performance results to see if a horse prefers a sprint race under 8 furlongs or prefers longer distances over 8 furlongs which are route races.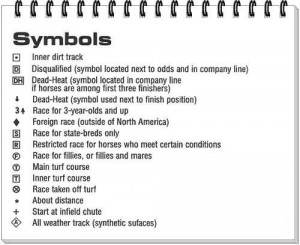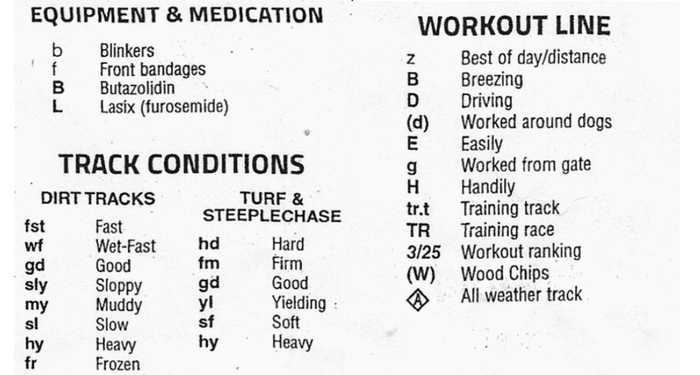 Horse Racing Language
---
If you plan on going to a Thoroughbred Horse Racing Track in North America any time in your life you will need to learn the language.   There are several terms you will need to understand before you go to any race track.
These are in no particular order:
---
Break Maiden – When a horse or jockey finishes in 1st place for the first time in their career
Chalk –  The betting favorite the public is wagering on and believes will win
Fast Track – Racetrack footing as best, dry, fast and even
What's the Field – The number of horses that are racing in a race
Handicapping – Someone who analyze each horse's past performance to pick a possible winner
Head of the Stretch – The straight run to the finish line
In the Money – A horse finishes in either first, second or third place you will win money
Maiden Race – Every horse and jockey that have not won a race
Morning Lines – Odds that are given when the race is posted
Paddock Area – An area where the horses walk around before the race and get saddled
Photo Finish – When multiple horses are so close a camera needs to determine the finish order
Furlongs – Are the lengths the races are run 1 furlong equals to one-eighth of a mile
Backstretch – Straight area of track between the turns
Nose – Smallest advantage a horse can win by
Inquiry – The race is reviewed to check for a possible infraction of the rules
Objection – 
A foul claimed by a jockey on another horse and jockey
Starting Gate – Mechanical device having stalls where horses are confined until the start of the race and the doors are opened
Toteboard – Computerized display with race details which include odds, time, payouts and other details
For a more in-depth list of horse racing terms, check out DRF Daily Racing Form they provide a completed list.