Horse Racing Legends
---
Here is a few of the Greatest Horse Racing Legends Stories in the sport's history.  All the way back to 1919 the first Triple Crown Winner Sir Barton to the current winner American Pharoah in 2015.
There have been 12 Triple Crown Winners since 1875 when the Kentucky Derby became the first leg of the Triple Crown. To learn more about the great Horse Racing Legends and their journey below is a list of our favorite stories.  
---
---
American Pharoah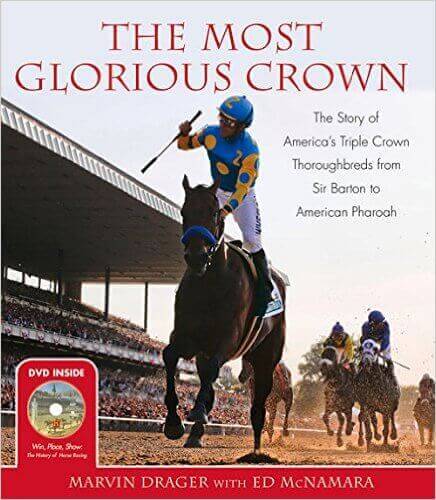 This book delves into the history, and subplots of each Triple Crown Winners. American Pharoah the 12th Triple Crown Winner and all the way back to the first Champion Sir Barton in 1919.  Very well written with in-depth on how each Triple Crown champion was treated. Includes over 150 archival, authentic black-and-white photos of each thoroughbred throughout their career.  You will find the actual racing forms from each race for the Triple Crown. Now that's Pretty Cool!
Overall Rating:  5 of  5
Summary: Very well written with lots of researched and in-depth treatment of each of the Triple Crown Champions.  It's a masterpiece and highly recommended no matter who or what your interest. The perfect book for any Horse Racing Fan wanting to know the stories about the Great Triple Crown Champions. 
---
---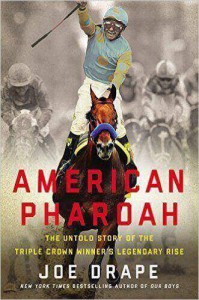 American Pharoah The Untold Story of the Triple Crown Winner's Legendary Rise
On June 6th, 2015 history was made at Belmont Stakes when American Pharoah won the Triple Crown.  The world watched as American Pharoah broke the 37 years "drought" of Champions and won the final leg of the Triple Crown Races.  This book covers all aspects of the American Thoroughbred Horse American Pharaoh from the owner, trainer to the racing career.  It will truly make you appreciate all that any American Thoroughbred Horse has to endure to win the Triple Crown Races.  Insight into how they have to adjust to the weather, illness, travel, competing on three different tracks at different distances.  It's not an easy task by any means.  Recommended the must-have book for every Horse Racing fan. American Pharoah is now part of the Great American Horse Racing Legends club. 
Overall Rating:  5 of 5
Summary: Superbly written story about a Great American Thoroughbred Horse.  Behind the scenes look at the long road to becoming the Triple Crown Champion and how much horsepower it really takes. From the owner, trainer, groomer, jockey, and horse, this is an empowering story. 
---
---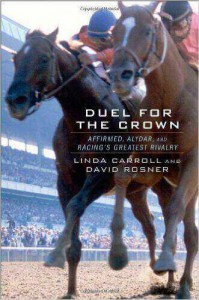 Duel for the Crown: Affirmed, Alydar, and Racing's Greatest Rivalry
This book gulps into the 1978 Triple Crown Duel between Affirmed and Alydar. A great story about two great champions dueling it out to become part of the Horse Racing Legends.  Affirmed and Alydar became one of the greatest dramas ever played out in the racing world. The moment they raced in Saratoga Springs, they showed the stuff of racing legends. Tension build all throughout the Triple Crown Races between the duel and what an excitement it was for the crowds. As the final gate opened at the Belmont Stakes we had a new Triple Crown winner. What an exciting journey it was for horse racing fans. 
Overall Rating:  5 of 5
Summary:  Anyone who wants to travel back in time and be part of the excitement, this is a must-read. When Affirmed and archrival Alydar galloped head-to-head for the Triple Crown.   A rivalry that everyone couldn't wait to see what would happen next.  Could Affirmed win the Triple Crown or would Alydar take it away from him?  Go back in time and be a part of one of the Greatest Horse Racing Legends Duel stories.
---
---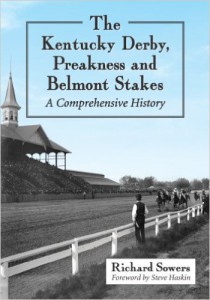 The Kentucky Derby, Preakness and Belmont Stakes
This book gives the history of America's Classic Races from the Belmont Stakes in 1867 through 2013. Includes the stories of the men and women who rode, trained, owned or bred classic Triple Crown Winners. This is the definitive history of thoroughbred horse racing of the Triple Crown in explored detail. Well written comprehensive history from an author with the deep love of the "Sports of Kings" athletes. It covers in depths the stories of countless winners of the three most traditional horse racing events. 
Overall Rating:  4 1/2 of 5
Summary: Filled with Horse Racing Legends over 100 years of history all in one amazing book. Information about the connections surrounding each horse that ran each year and the horses and the names.  Horse racing fan must have!
---
---
Secretariat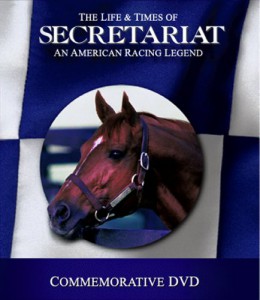 The Life & Times of Secretariat An American Racing Legend
All parts of Secretariat's life is documented in this Official DVD movie licensed by owner "Penny" Chenery Tweedy.  Secretariat's 16 months Horse Racing career started on July 15, 1972, with his Maiden Race at Aqueduct, where he finished 4th after a bumpy start.  He won seven out of his next eight races, five of them were stakes races. Secretariat was bigger than life and was becoming the King of the "Sports of Kings" around the stables.  Horse racing track records were being broken and history was being made by the horse known as "Big Red".  In 1973 Secretariat become the first winner of the Triple Crown in a quarter of a century.   A movie collection for every Horse Racing enthusiast young or old.
Overall Rating:  4 1/2 of 5
Summary: This commemorative issue is actually three DVD videos all in one.  This comprehensive DVD is full of interesting film clips, interviews and historical events of Secretariat journey to the Triple Crown.  It traces his days back as a foal through his death in the fall of 1989.  Along the way, you will see some amazing achievements in the history of horse racing. A true Horse Racing Legend!
---
---
The Horse God Built – The Untold Story of Secretariat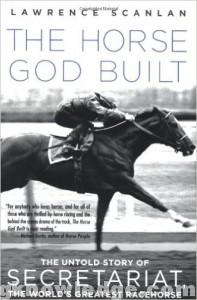 The Horse God Built was a bestseller and a must-read for anybody list who loves the thrill of horse racing. This story about Secretariat tells the story of the behind-the-scenes drama on the track. Featured on the cover of Time, Newsweek, and Sports Illustrated the only horse listed on ESPN's top fifty athletes of the twentieth century.  No one was closer to Secretariat than his groom Eddie (Shorty) Sweat, the importance that he played in Secretariat life is captured in this book.  One of the greatest stories of all time and a must-read for anyone who enjoys the sport of Horse Racing. Talk about one of the Greatest Horse Racing Legends, you just found him. 
Overall Rating:  5 of 5
Summary: A must read for everyone, can't sum it up any better!
---
---
---
Best Horse Racing Movies
---
Horses movies seem to grab the audience's attention.  Horses are amazing athletes and creators that tell a heart filled, friendship, adversity and victory stories. People really get intrigued by the personalities of animals and the stories behind them.  Here are 3 of our favorite Horse Movies must see for anyone who wants cuddle up and watches a great movie.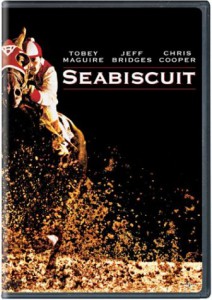 In the midst of the Great Depression era, an undersized and knobby-kneed racehorse named Seabiscuit lifted the spirits of many. A thoroughbred racehorse everyone overlooked until his unexpected success made a hugely popular media sensation. When three men work together as owner, trainer, and jockey to show the nation that Seabiscuit was a champion.  He gave the nation hope again during a hopelessness time.   Inspired by a true story.
Rated: PG-13 and is 141 minutes.
Released Date: December 16, 2003
Actors: Tobey Maguire, Jeff Bridges, Chris Cooper, Cameron Bowen, Mariah Bess
5 out of 5 Stars
Dreamer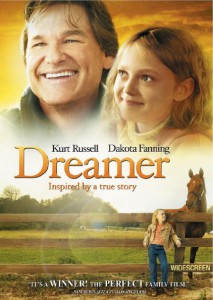 A great family movie for all ages to enjoy. It's uplifting and inspiring. A father and his daughter believe the injured racehorse deserves another chance before being sacrificed by his owner.  They adopt the thoroughbred horse and work together to save him.  The father and daughter bond was also healing while they were nursing the racehorse back to health. Dreamer was inspired by a true story about Mariah's Storm.   
Rated: PG and is 106 minutes.
Released Date: January 1, 2013
Actors: Kurt Russell, Dakota Fanning, David Morse, Kris Kristofferson, Elisabeth Shue
5 out of 5 Stars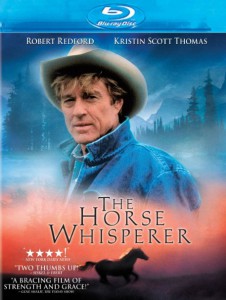 The Horse Whisperer
A devastating horse riding accident leaves a teenage girl and her horse with serious physical and emotional. A young girl's determined mother wanted to help she calls the Horse Whisper. She takes them both to the Horse Whisper (Robert Redford Academy Award winner) ranch to begin the healing. He is heartfelt about the girl and her beloved horse and pushes them to talk about the devastating accident. A beautiful and spiritual story of hope.
Rated: PG-13 and is 169 minutes.
Released Date: November 10, 1998
Actors: Robert Redford, Kristin Scott Thomas, Sam Neill, Dianne West
5 out of 5 Stars
Please leave a comment on your favorite Horse Racing Legends stories or even just a great horse story with us at the bottom of the page.  We look forward to reviewing your favorite stories.