BEGINNER'S GUIDE
---
Win Place and Show Bet Cost 
---
A Win Place and Show bets are the simplest forms of horse racing wagering also known as Straight Bets or Traditional Bets.
This type of wager is where most people who have never wagered on horse racing would start. Some might just pick their favorite number, color or a funny or meaningful name.
Even the experienced horseplayer may place a Win Place and Show bet if they think it's a good return on their investment.  
A Win Place and Show bets can be placed for as little as a $2 "Across the Board" which would cost a total of $6 but you can also bet a horse for $2 straight for Win or Place or Show which will keep the cost down.
Win:  A win bet scenario involves the horse you think will finish in first place. The horse must finish in first in order for you to win.
Place: With a place bet, if the selected horse you picked finishes either first or second you win. A place bet typically pays less than a win bet if wagered on the same horse.
Show: With a show bet, your horse can come in first, second or third and you win. A show bet typically pays less than a win bet if wagered on the same horse.
Across the Board: Win, place and show wagers of equal amount on the same horse. The ticket shown below is an example of this type of bet.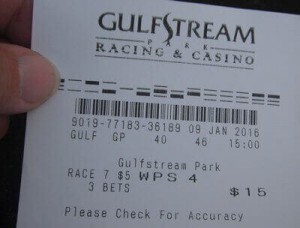 Here are the details with this ticket.
This bet was placed at Gulfstream Park on Jan, 9th, 2016

It was race Race #7

The type of bet was a $5 W/P/S (Win, Place, Show) on the #4 horse which costs a total of $15 to bet
So how did the #4 horse do in the race?
He came in second and lost by a neck at the wire. Here were the results from the race. Because this was an "Across the Board" bet, I won both Place and Show amounts $3.20 and $2.40.
If the bet was for strictly $2 ea the payout would've been $3.20 + $2.40 for a total win of $5.60.
However, I played this for $5 ea so the payout is 2 1/2 times the amount shown. The Place payout was $8.00 while the payout for Show was $6.00 for a total return of $14.00. 
Win Payout
---
To compute your $2 win price, take the odds of your horse and multiply the first number by 2, divide that by the second number, and then add $2 — simple as that!
Example: Horse's Odds are 7/5  (7 x 2 = 14 ÷ 5 = 2.80 + 2.00 = $4.80 Win)
Following is a list of payoffs at various odds for quick reference: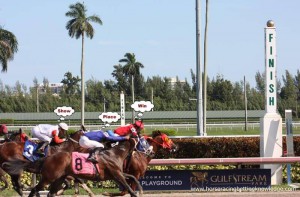 How to Place a Horse Racing Bet
---

There are a few ways you can place bets on horse racing.  
If you are at one of your favorite race tracks, you can go to a teller and place your bet. 
Racetracks also have machines to do it yourself.
Don't wait until the last minute to make your bet, you may get "shut out" so give yourself ample time to place your bets.
If you want to find a list of horse racing tracks click here and choose a track.
When you go to the teller to place your bet, tell them your bet in this order.
Step 1 – Say what track you want to place the bet and race #
Step 2 – Say the amount you want to wager. ($2, $5, $10 etc.)
Step 3 – Say the type of bet you wish to make. (Win, Place, Show, etc.)
Step 4 – Say the horse's

number

you want in the bet. (Not the Name of the horse)
Then go cheer for your horse or horses!!!!
Good Luck!!!!!!!!!!!!
Check All tickets before leaving the betting window
Best Online Horse Racing Betting Sites
---
If you're unable to make it to a race track nearby and still would like to place bets on one of the BIG Stakes races?  Like the Kentucky Derby, Preakness Stakes or Belmont Stakes race you can always wager online.
There are various websites (TVG, BetAmerica, and Twinspires) that give you access to multiple race tracks at any time and at any place.
Other Types of Bets in Horse Racing
---
Once you've learned how to place the traditional bets of Win Place and Show then it's time to try the more Exotic Wagering.  
This is a little tougher to win because you are betting more horses to come in the money.  If you want to learn how to do Exotic Wagering go to our Exotic Wagering page for more details.
CONTINUE READING: Exotic Wagering