Horse Racing Post Positions – Saddle Cloths
---
---
Post position are the position at the starting gate a horse will start at in a race.  They are randomly picked, they pick the horses name first then which post position they will start from.
Some horses do better starting from certain post positions.  Either on the inside rail 1 through 5 or on the outside from 6 and higher depending on the horses running style.

Horses that like to get out there early in the lead, like Frontrunners usually do well from the Post Position 1 it saves them from having to run fast to get out in front.  
Unlike the Closer horse who does well from post positions 6 or higher. They let the other horses get out in front and then sneak up when the time is right. 
There can be as many as 21 horses in any race at one time, most of the time it's between 5 and 12 horses.  Some owners feel that a post position affects the horses' performance due to the running style of an individual horse.  Some owners/trainers prefer their horse to be on the outside rail where they have more space.
Historically Post Positions No.2 to No.10 has produced the most winners in previous Kentucky Derby runs and only a few horses have won starting from No.16 and further outside.  
There are 2 starting positions that have never won (as of 2017) the Kentucky Derby, No.17, and No.19, so owners don't want those starting gates.
Horse Saddle Colors by Number
---
Saddle cloths refer to the blankets, pads inserted under a saddle to help absorb sweat, cushion the saddle and protect the horse's back.
The saddle cloth colors correspond to the post positions the horse is starting at most thoroughbred racetracks.
They help the caller, owners, trainers, and fans identify the horses in the race.  So it's easy to see if the horse is out in front or following in the rear.  The other way you can keep track of the horses is by the Jockey's Silk Colors.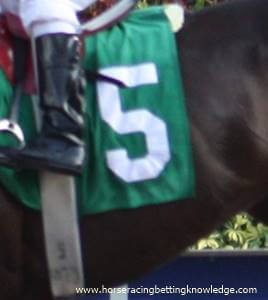 Red cloth with white #
White cloth with black #
Blue cloth with white #
Yellow cloth with black #
Green cloth with white #
Black cloth with gold #
Orange cloth with black #
Pink cloth with black #
Turquoise cloth with black#
Purple cloth with white #
Gray cloth with red #
Lime cloth with black #
Brown cloth with white #
Maroon cloth with yellow #
Khaki cloth with black #
Light Blue (Copen Blue) cloth with red #
Navy cloth with white #
Forest Green cloth with yellow #
Dark Royal Blue (Moonstone) cloth with red #
Fuchsia cloth with yellow #
Light Purple cloth with navy #
What about the Jockey Silks?
---
Now that you know all about the Post Positions and Saddle Cloths.  What about the Jockey Silks?  
What do they mean and what do they represent? 
CONTINUE READING: Horse Racing Jockey Silks