Yes, it's True!  Horse Racing Canceled at several tracks today.  With the heat and humidity hitting many areas of the U.S. this weekend some of the Racetracks Canceled Horse Racing. 

An excessive heat warning is in effect for today with temperatures in parts of the United States climbing into the 100's.  By adding in the heat index, it will feel like 105° to 110° in some areas. 
The decision to cancel Horse Racing today is the right choice for the well being of the horses, jockeys, and fans.  
Here is a list of the

Horse Racing Tracks that Cancelled Races: 
Belterra Park in Cincinnati, Ohio

Delaware Park in Wilmington, Delaware

Ellis Park in Henderson, Kentucky

Finger Lakes in Farmington, New York

Parx Racing in Bensalem, Pennsylvania

Saratoga, Saratoga Springs, New York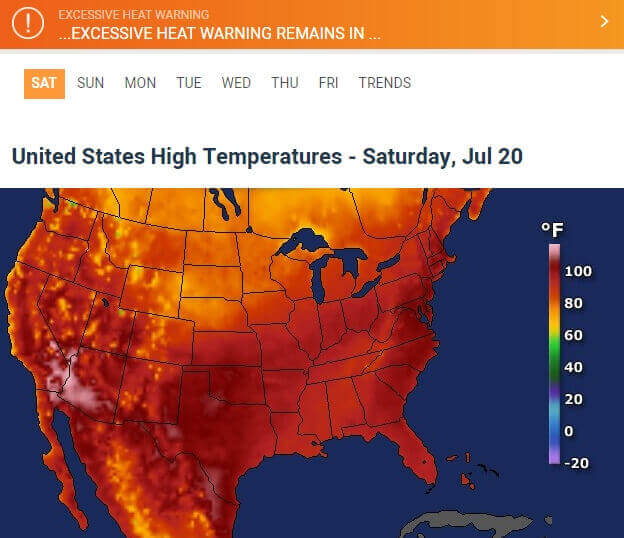 Belterra Park, Ellis Park, and Woodbine also canceled races yesterday Friday, July 19, 2019, due to the heatwave we are having. 
The Sport of Horse Racing has been under scrutiny due to the recent deaths at Santa Anita Park.  
Today the TVG.com Haskell Invitational Stakes will be held at Monmouth Park in Oceanport, New Jersey.  Monmouth Park delayed their first race unlike other tracks on the East Coast who canceled races.    
UPDATE:  As of 1:30 pm EST Monmouth Park will have an abbreviated schedule for Haskell Day.  The temperature hit 95 degrees and the heat index rose to 106 degrees it was time to cancel.  Only the first two races went off with a little delay but Races 3, 4, 6, 7, 13 and 14 will be canceled. 

Monmouth Park Race Schedule Today EST:

Race 5 – Oceanport Stakes | Post Time 6:00 pm 

Race 8 – Molly Pitchers Stakes | Post Time 6:25 pm

Race 9 – Wolf Hill Stakes | Post Time 6:53 pm

Race 10 – Monmouth Cup Stakes | Post Time 7:15 pm 

Race 11 – WinStar Matchmaker Stakes | Post Time 7:40 pm

Race 12 – TVG.com Haskell Invitational Stakes | Post Time 8:05 pm
Other racetracks in PA, NY, and DE canceled their racecards.  Let's hope the horses and jockeys are safe in the heat today. 
If Horse Racing has been Canceled in your hometown you can still check out Live Racing at TVG.com.