2017 Belmont Stakes Results
---
Tapwrit wins the 149th running of the Belmont Stakes!!!
It sure looked like Irish War Cry was about to win the race until Tapwrit went into another gear and dug in, in the deep stretch to pass Irish War Cry for the impressive victory and win the Belmont Stakes. Patch, the one-eyed wonder horse finished third in the race. Here are the payouts for the race. The "Pick 3,4, and 6" payouts were especially nice if you had any of those!!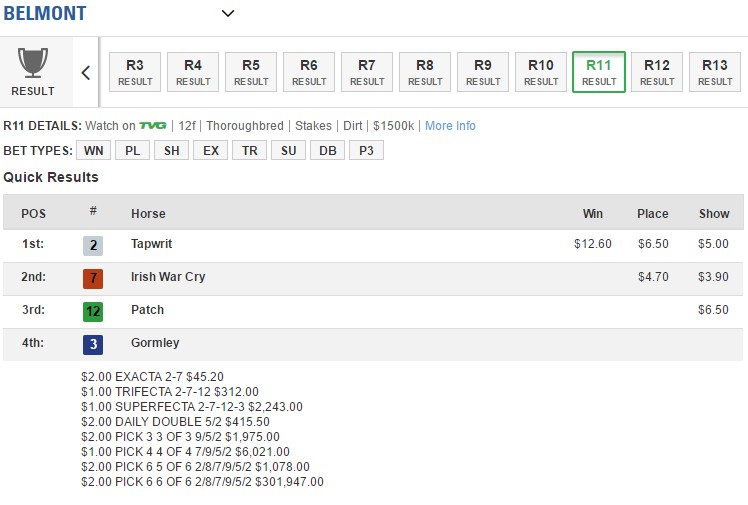 2017 Belmont Stakes Entries
---

The third and final leg of the Triple Crown will be held on June, 10th, in Elmont, NY with the 149th running of the Belmont Stakes. Unfortunately, there will not be a Triple Crown winner this year however that doesn't mean the race will be uneventful. 
2017 Kentucky Derby winner Always Dreaming along with the 2017 Preakness winner Cloud Computing has decided to bypass the Belmont Stakes and look further down the road later in the year.
Here are the contenders for the 1 1⁄2-mile (2,400 m) race, known as the "Test of a Champion". Classic Empire who would've been the odds-on favorite, had to withdrawal from the race due to a hoof abscess. Irish War Cry has been installed as the early odds-on favorite for the race.
A little historical note about the Belmont Stakes here. Since 2006, the betting favorite has only won once and that was the great American Pharoah in 2015 who went on to win the Triple Crown.
To add to that fact, seven out of the other ten favorites finished out of the money. This held true at the 2016 Belmont Stakes when the favorite Exaggerator finished 11th.
So which post position number wins the Belmont Stakes the most? Since 1905, the horse with the most wins is the #1 horse.
For all the superstitious players out there, the most wins by a horse by letter are one that begins with the letter 'C'. Guess that's good news for all the Classic Empire fans out there for this race.
UPDATE 6/7/17…..Classic Empire is ruled out of the Belmont Stakes due to a hoof abscess. 
Where to Watch the Belmont Stakes
---
NBC Sports coverage of the Belmont Stakes starts at 3:00 p.m. EST.  The 149th Belmont Stakes estimated Post time is 6:45 p.m. EST Saturday at Belmont Race Track Elmont, NY.  (check your local listings for channel)