---
---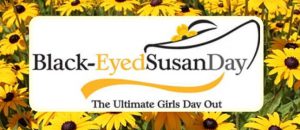 The day before the 142nd Preakness Stakes Race there is a race for the three-year-old Fillies called Black-Eyed Susan.  This race is the oldest stakes race held at Pimlico Race Course which started in 1919.  It's held the Friday before the Preakness Stakes Race at Pimlico Race Course at a mile and one-eighth long (9 furlongs).
Black-Eyed Susan race is one of the six stakes races on Friday with a total of 14 races for the day.  There are some great looking gals in the field for the Black-Eyed Susan the race is wide-open with no true favorite.  We have our favorites Summer Luck and Moana, who are yours? (leave in comment below)
If you never wagered on horse racing before but want to join in on the fun,  don't worry you can place a simple Win, Place or Show wager and join in on the fun.  You can place your wagers online with one of the leading and secure Online Resources.
Here are the races for Friday, May 19th, 2017.

Black-Eyed Susan Competitors
---
---
If you want to try and score big (what horse bettor doesn't?) then the Black-Eyed Susan will be your race to wager on this weekend.  There are no guarantees in horse racing but the thrill and excitement are really worth it.
Here are the Post Positions and Competitors for Black-Eyed Susan Stakes Race.
The past three years the Winner of the Black-Eyed Susan Stakes Race odds were as followed:
2013: Fiftyshadesofhay, ODDS 2-1 – paid $6.60 for a $2.00 Win bet
2014: Stopchargingmaria, ODDS 4-1 – paid $9.60 for a $2.00 Win bet
2015: Keen Pauline, ODDS – 15-1 – paid $32.80, for a $2.00 Win bet
2016: Go Maggie Go, ODDS 4-1 – paid $5.60 for a $2.00 Win bet
So if you are ready to join the fun Friday, May 19th at Pimlico Race Course and where your best dress.  If you can't make it to the track it will be televised on NBCSport (check your local listings for time and channel).
Don't forget to leave us a comment on who your favorite girl will be in the race.