2017 Preakness Results – Cloud Computing Wins at 13/1 odds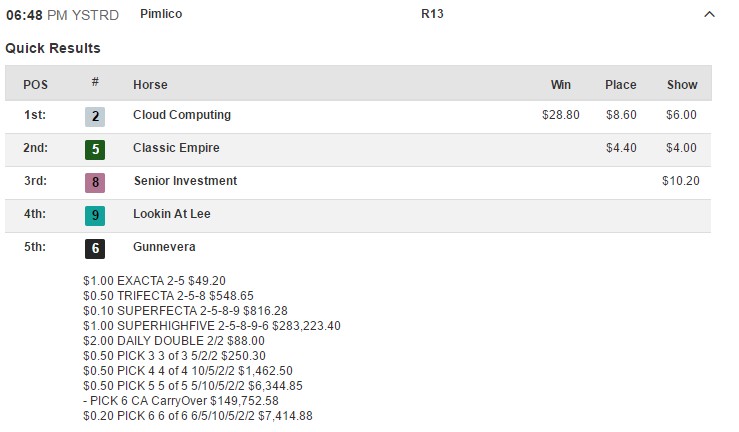 Cloud Computing wins the 2017 Preakness Stakes by upsetting the two favorites Always Dreaming and Classic Empire!!!!  Cloud Computing was not entered in the Kentucky Derby and is only the fourth horse in 34 years to win the Preakness after not running in the Kentucky Derby. 
There will not be a Triple Crown winner this year as Always Dreaming (The 2017 Kentucky Derby winner) was upset by Cloud Computing at 13/1 odds. Always Dreaming, Classic Empire were running 1-2 at the 3/4 pole. 
With jockey Javier Castellano aboard, Cloud Computing was strategically positioned third throughout the race. This gave him plenty of energy down the stretch to run down Classic Empire beating him by a head in a thrilling finish to the wire for the impressive victory.
Always Dreaming weakened in the stretch and finished a very disappointing 8th place. Classic Empire came in 2nd place. Senior Investment made an impressive run from the back of the pack to roar up for 3rd place and might be a horse to watch in the near future. 
Watch the exciting replay of the 2017 Preakness Stakes.
2017 Preakness Order Of Finish

2017 Preakness Stakes Field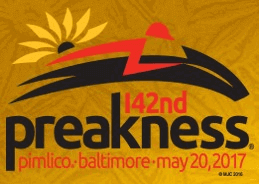 Here are the entries along with the current odds for the 142nd running of the Preakness Stakes set for this Saturday, May, 20th at Pimlico Race Course in Baltimore, Md.
With an impressive victory in the Kentucky Derby, Always Dreaming is looking to win the second jewel of the Triple Crown races. 
Taking another shot at Always Dreaming will be Classic Empire, Gunnevera, Looking at Lee (second place in the Kentucky Derby) and Hence. Will one of the remaining five horses challenge Always Dreaming and pull off the upset at the Preakness? 
Preakness Stakes Race is on a dirt track and 1 3/16 miles (9.5 furlongs) just a little shorter than the Kentucky Derby at 10 furlongs.
The weather could have affected the outcome of the Kentucky Derby with a muddy track. Keep an eye to the sky on Saturday, May 20th weather for Baltimore, Maryland which is currently listed as partly cloudy. This could have a different outcome for Always Dreaming top competitors.
If you are going to be in the Baltimore, Maryland area, get your Preakness Stakes Tickets
 before it's too late.  And if you are not able to attend the Preakness Stakes Racetrack to place your wagers.  Don't worry there are Online Betting Sites you can join and receive a Cash BONUS.  
Where to Watch the Preakness Stakes
The 142nd Preakness Stakes Post time is 5:45 p.m. CDT Saturday at Pimlico Race Course in Baltimore. It will be televised on NBC Sports. (check your local listings for channel)
Black-Eyed Susan
Don't forget to check out the Black-Eyed Susan Stakes Race on Friday, May 19th.