The 145th Kentucky Derby will go down in history! For the first time in the 145th running of the Kentucky Derby, the horse that crossed the finish line first DID NOT WIN. The horse that came in 2nd becomes the 2019 Kentucky Derby Winner.  Country House Wins 2019 Kentucky Derby after Maximum Security who crossed the finish line first was disqualified. 
Kentucky Derby is the longest continually held sporting event in the US.  The Kentucky Derby is just as exciting as the Super Bowl, with lots of celebrities and wealthy people partying together. 
This year there were over 150,000 people attending and over a million people watching the Kentucky Derby on TV. And they were stunned with the results. 
The first weekend in May is always an exciting one around the sporting world.  It's the Kentucky Derby Weekend when all the great horses compete to win the first leg of the Triple Crown. 
It was another rainy day at Churchill Downs, Louisville Kentucky for the 2019 Kentucky Derby.  The rain started to fall in the early afternoon which made the track sloppy. 
This was the third year in a row that the horses had to run on a sloppy track at the Kentucky Derby.  It has rained on Kentucky Derby Day since 2017 which can make it very challenging for the horses and humans. 
Some of the horses never run on a sloppy track before so you don't know how they will react.  This year Maximum Security was out in front and in the lead most of the race. 
When the crowd starts to cheer him on around the final turn jockey Luis Saez said he got a little nervous.  This is when he swerves in front of  #1 War of Will which then impeded #18 Long Range Toddy.  Even though #7 Maximum Security crossed the wire first he was disqualified!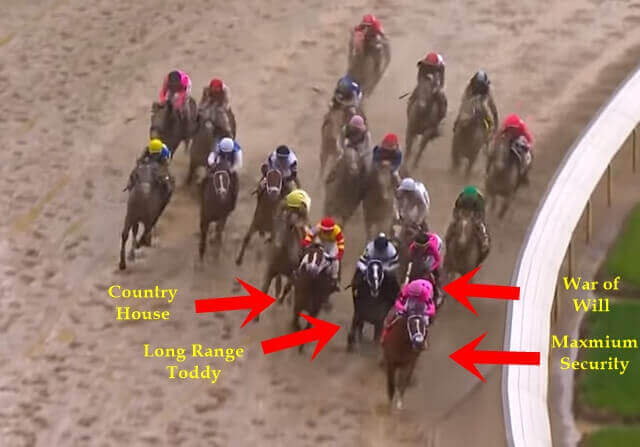 Thoroughbred Racing Rules
---
According to horse racing rules, a horse or jockey can be disqualified if the horse swerves or is ridden into another horse. After the race, there was an objection from # 20 Country House and # 18 Long Range Toddy on Maximum Security interference.  This lead to a stewards review. 
After reading the "1001 Thoroughbred Racing Rules and Regulations" which clearly states the following:
14.15 Fouls: A leading horse, when clear, is entitled to any part of the track. If a leading horse or any other horse in a race swerves or is ridden to either side so as to interfere with or intimidate or impede any other horse or Jockey, it is a foul. If a Jockey strikes another horse or Jockey, it is a foul. If, in the opinion of the Stewards, a foul alters the finish of a race, any offending horse may be disqualified by the Stewards.

14.16 Stewards to Determine Foul Riding: Every Jockey shall be responsible for making his best effort to control and guide his mount in such a way as not to cause a foul. The Stewards shall take cognizance of riding which results in a foul, irrespective of whether an objection is lodged and, if in the opinion of the Stewards a foul is committed as a result of a Jockey not making his best effort to control and guide his mount to avoid a foul, whether intentionally or through carelessness or incompetence, such Jockey may be penalized at the discretion of the Stewards.
According to the rules, Maximum Security should have been disqualified.  Unfortunately, one of the horses that Maximum Security impeded was #1 War of Will who ended up coming in 7th place. All credit goes to jockey Tyler Gaffalione for keeping #1 War of Will in check. 
War of Will did not benefit from the objections he finished in 8th and only got moved up to 7th. The 2nd place Country House moved up to 1st place becoming the 2019 Kentucky Derby Winner. 
Maximum Security also impedes with Long Range Toddy who ended up in 16th place.  Therefore, since Maximum Security impeded with War of Will and Long Range Toddy so he gets placed after the second horse he impeded. 
War of Will came in 7th and Long Range Toddy came in 16th therefore, Maximum Security was placed 17th in the standings. 
Here is a video of exactly how it all went down in slow motion.
Horse Racing has gotten a bad rep over the years and most recently with so many horse deaths at Santa Anita.  The sport of Horse Racing has rules just like Football, Baseball, Hockey, and etc.
Rules are in place to keep the athletes safe from injuries, horses and jockeys are athletes.   Rules should be followed no matter how big the race is.  The Stewards made the correct call.  Thank goodness it wasn't worse and nobody got hurt. 
COUNTRY HOUSE 2019 KENTUCKY DERBY WINNER
Congratulations Country House
(Jockey) Flavien Prat
(Trainer) William Mott
Recent Winning Payouts
---
Because of the surprising turn of events at the 2019 Kentucky Derby, Country House went off at 65-1 odds. The $1 Exacta Bet turned out to be a profitable win, returning a whopping $1,504.80!
Another recent bet I hit was a Pick 4 wager that turned out to be profitable as well. My cost was $48 for the Pick 4 wager which returned $1,306.65!  

Up close and personal with the Kentucky Derby Champion. pic.twitter.com/xueqs2rr8a

— Kentucky Derby (@KentuckyDerby) May 5, 2019
Off at 65-1, Country House becomes the second-biggest long shot winner in Kentucky Derby history. pic.twitter.com/zXlgULghil

— Kentucky Derby (@KentuckyDerby) May 5, 2019