Have you ever wondered how to bet on the Kentucky Derby Online? It's not as complicated as you may think. Online wagering on horse racing is quite simplified these days and convenient if you cannot attend the big race in person.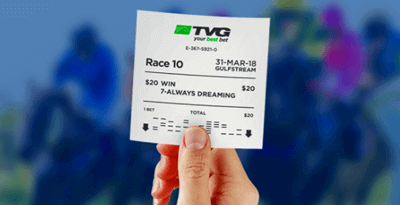 There are several Online Resources that offer ways to place bets from anywhere we opened an account with TVG.com to place our wagers.
TVG not only gives you the format to wager online but it also gives you various handicapping tools.  These tools will sharpen and improve your chances to win at the races. 
2018 Kentucky Derby
---
This will be the 144th running of the Kentucky Derby which will be held on Saturday, May 5th, 2018 at Churchill Downs in Louisville, KY.
It's the "Most Exciting Two Minutes In Sports" and historically has the largest payouts of any of the three Triple Crown Races (Kentucky Derby, Preakness Stakes, Belmont Stakes). If there's ever a race to wager on with the possibility of huge payouts, the Kentucky Derby is the race to do so.
Kentucky Derby – Past Payouts
---
Let's look back in time and review the payouts of past Kentucky Derby races.  We will start with the unbelievable "Run for the Roses" in 2005 with a horse called Giacomo and the horse who finished second that year, Closing Argument.
We would all love to hit that "longshot" to win the race and in 2005, Giacomo crossed the finish line at 50/1 odds!!! If you thought that was unreal, Closing Argument finished second with an incredible 71/1 odds!!!! 
Want to see some crazy payout totals??? 
Not all of the payouts are as wild as the 2005 race. However, in 2009 the payouts were generous once again. The winner that year was Mine That Bird who finished at 50/1 odds. While Pioneer of the Nile finished at 6/1 odds and finally Musket Man came in at 19/1 while finishing third. 
Here are the payouts for the last four Kentucky Derby Races (2014-2017).
As you can see from the payouts from the past if there's ever a time to place Exotic Wagers (Exactas, Trifectas, and Superfectas) the Kentucky Derby is a great place to start. 
It looks like I'll be placing a few exotic wagers in this years Kentucky Derby that will include Trifectas and Superfectas. Maybe this year will produce another monster payout??? 
Stay tuned as we get closer to the first Saturday in May!!!