The Pegasus World Cup at Gulfstream Park on January 28, 2017
The Pegasus World Cup at Gulfstream Park will be the World's Richest Thoroughbred Horse Race!
There are 12 participants, 12 forces, 12 chances to win the richest race ever run.  It's a 12-horse match race.  The date is set for the inaugural running of the Pegasus World Cup, the richest in Thoroughbred Horse Racing Industry.  Each group of individuals or owner groups had to purchase a spot at the starting gate for $1 million USD. They all have been purchased and now we'll just wait and see who will step up to the gate.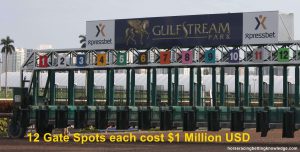 The Pegasus World Cup will be the Richest Thoroughbred Horse Race and will surpass Dubai Cup.  Inaugural Pegasus World Cup will have a purse of $12 Million USD and become the Super Bowl of the Horse Racing world. Beating out The Dubai World Cup that has a purse of $10 Million.
For the NFL Fans (Nation Football League), don't worry the race is the week before the Super Bowl, so you won't miss a thing.  For you horse racing fans this race will not interfere with the Breeders' Cup or Dubai World Cup. 
The $12 Million Dollar purse will be broken out as followed: Winner receives $7 Million, second place receives $1.75 million, third will receive $1 million and every other horse that starts getting $250,000. The 12-participants also receive 100% of the shares of the net income from betting, media rights, and sponsorships.
The owners of the $1 Million starting gate spots have the following options. 
Race a horse of they own

Lease out the gate spot to another owner

Sell the starting gate spot and possibly make a nice profit off it

Share the starting gate spot with another owner, choose which horse will race

The current starting gate spot owners are (in no special order)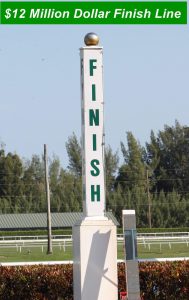 California Chrome LLC


Coolmore Stud

Daniel Schafer

Frank Stronach

Jerry and Ronald Frankel

Jim Mcingvale

Reddam Racing

Reeves Thoroughbred Racing

Rosedown Racing Tuis Stable

Sol Kumin

Starlight Racing
If you can't make it to Gulfstream Park in Hallandale Beach, Florida makes sure to place your wager Online.  Sign up with TVG, BetAmeria, or Twinspires to place a wager on this historical event.  Be a part of history and wager on the $12 Million Dollar Race.
.