It is almost time for the 2018 Breeders Cup Races! It's time to formulate a strategy for your online wagering methods for this historic 2-day event.
The running of the 35th Breeders Cup World Championship Races, are being held at legendary Churchill Downs.  Friday, November 2nd, and Saturday, November 3rd Churchill Downs will be the place to be.  The last time the Breeders Cup Races were at Churchill Downs was back in 2011.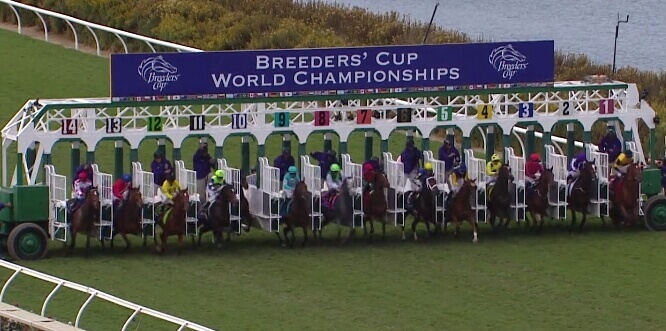 If you're like me and can't attend this awesome 2-day live event, then you'll need to wager online on your favorite races.   You can wager online by opening a TVG account, it's quick and easy to set up an account.
If you really want to sharpen your handicapping skills, I personally use a product called STATS Race Lens which you can purchase through TVG.com. 
STATS Race Lens includes customizable past performance reports that will assist you in handicapping the races. When you purchase the STATS Race Lens Day Pass you have access to all the races tracks.  
STATS Race Lens provides pertinent information on every horse entered in each race, right at your fingertips.  When you wager $20 or more TVG.com will credit your account the next business day for the STATS Race Lens purchase.  
Here's a quick look at the 2018 Breeders Cup Races scheduled for Friday, November 2nd, and Saturday, November 3rd. 
Stay tuned for complete details on every race as we get closer to the 2018 Breeders Cup Races!!!!!!  
In the meantime, if you'd like to brush up on some basic wagering techniques, check out our article on Win Place and Show as well as the Exotic Wagering article.  
NBCSN and NBC will be broadcasting The Breeders' Cup Classic race on November 3rd at 5:44 p.m. ET, check your local listings for details. 
2018 Breeders Cup Races Post Position Draw Date & Time
---
Post Position Drawing for the 14 Breeders' Cup World Championship Races are being held at Equestricon Stage at the Kentucky International Convention Center in Louisville, KY.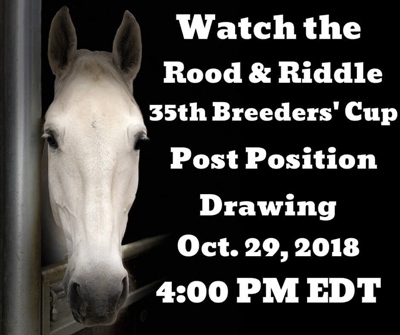 This will happen on October 29, 2018, from 4:00 p.m. to 6:00 p.m. EDT and followed by Live Entertainment, Cocktails, and Hors d'oeuvres for attends. 
Watch the Rood & Riddle Breeders' Cup Post Position action streaming on Facebook Live, Periscope, Breederscup.com, and Breeders Cup Mobile App.
Ways to watch the week-long events check out Breeders Cup Watch Page
To download the Official 2018 Breeders' Cup World Championship Schedule of Events with Times Click Here