California Chrome Wins Again  
---

California Chrome Race Horse Wins the 2016 $180,000 Winter Challenge Stakes race Saturday, December 17, at Los Alamitos. Setting a new track record of 1:40:03 for a mile and sixteenth (8.5 furlongs) at Los Alamitos and personally setting his own best time at a 1-1/16 mile on a dirt track.  Coming impressively into the home stretch by 8 lengths, California Chrome galloped to the Winner's Circle.
California Chrome the 5-year-old Thoroughbred Race Horse won his 16th race out of 26 starts. This chestnut color stallion was born on February 18, 2011. He competed in his first race on April 26, 2013, at Hollywood Park in Inglewood, CA.  His career earnings exceed $14 million.  He is the Richest Horse the history of North American Racing.
California Chrome is heading to the Pegasus World Cup Invitational
---
The World's Richest Thoroughbred Horse Race
The Inaugural running of the World's Richest Thoroughbred Horse Race will be The Pegasus World Cup Invitational. This race will be a Grade 1 race that will be held at Gulfstream Park in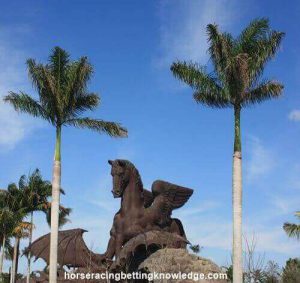 Hallandale Beach, Florida. Put on your calendar Saturday, January 28th, 2017 to see the World's Richest Thoroughbred Horse Race.  The $12 million Pegasus World Cup becomes the world's richest horse race surpassing the Dubai Cup with the winner earning a world record of $7 million USD.
The Pegasus World Cup is a restricted 12 horse field which will run on a dirt track at 1-1/8 mile (9 furlongs).  Twelve owners reserved a spot in the starting gate for $1 million USD each. Every owner reserving a gate spot have the option to race, lease, share a starter, or possibly selling their starting spot. The owner of the winning horse will receive $7 million USD but every horse that starts in the race will receive some kind of payout.  Second place receives $1.75 million, third will receive $1 million and every other horse that starts get $250,000.  
NBC will broadcast a 90-minute live telecast of the Pegasus World Cup Invitational from 4:30-6:00 pm EST on the main NBC networks.  
For all you NFL football fans out there, don't worry the race was strategically placed on January 28. The significance here it's scheduled on the weekend between the NFL's conference championship games and the Super Bowl.
Stay tuned for more details in the upcoming 1st Pegasus World Cup posts. ?