Justify: The Journey Heading into the Belmont Stakes Race
---
Justify has a chance to be the next Triple Crown Winner since American Pharoah's win in 2015.   Let's go through Justify Journey to Belmont Stakes Race.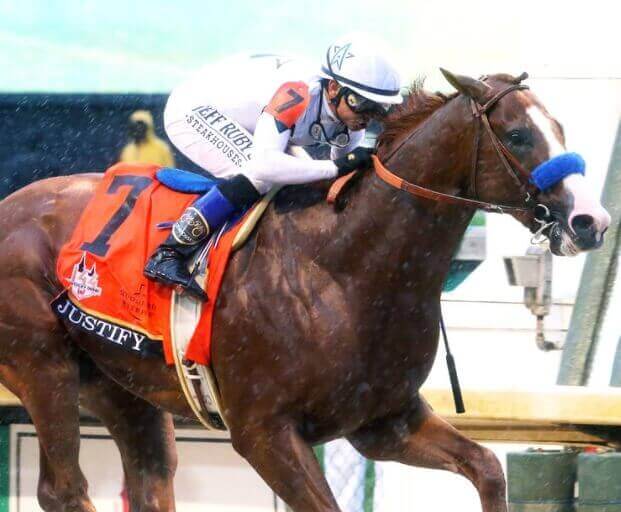 Justify Facts
---
There have been several obstacles Justify had to get over on his way to the third leg of the Triple Crown.
1) Until the Kentucky Derby Justify never faced more than six competitors in his career.  Justify only competed in three other races before entering the Kentucky Derby.  He won all three races by 3 or more lengths.
2) Had only 2 career starts before winning the Santa Anita Derby.  Justify first race was on February 18, 2018, in a Santa Anita Maiden Special Race and won by 9-1/2 lengths.
3) Broke the "Curse of Apollo" no horse has won the Kentucky Derby after not starting as a two-year-old since Apollo in 1882.  Many horses have tried to break the curse and came close.  Horses like in 2017 Battle of Midway came in 3rd, 2012 Bodemeister came in 2nd and 2007 Curlin came in 3rd.
4) Justify was the post-time favorite with 1-2 odds in his first career Maiden Special Weight Race at Santa Anita, he broke his maiden by winning.
5) Every race Justify has entered into always went off as the post-time favorite.  I honestly can not find another horse that like Justify that has always been the favorite and won.  He is a very special horse.
6) Mike E. Smith rode Justify in 4 out 5 career races up to the Belmont Stakes.  Drayden Van Dyke was the first jockey that rode Justify at Santa Anita Race and broke his maiden.  
---
Justify won his first stakes race with the Santa Anita Derby qualifying him to enter into the Kentucky Derby.  He then won the Kentucky Derby race on May 5th breaking the Apollo Curse.  
Both Kentucky Derby and Preakness Stakes races were labeled as sloppy tracks and it makes you wonder if the Belmont Stakes will be the same.
Justify broke well from the gate in both races and was in front around the first turn.  He stayed out in front and won both races. 
Justify had to fight hard in the slop and fog to beat runner-ups Bravazo, Tenfold, and Good Magic in the Preakness.  Who knows if Bravazo could have beaten Justify if the race was a little longer.
Justify was in post position Lucky Number 7 for the Kentucky Derby and Preakness. 
Will Justify draw post position number 7 again for the Belmont Stakes?
Post Positions for the Belmont Stakes will be held on Wednesday, June 6th. 
If Justify wins the Belmont Stakes he will become the 13th Triple Crown Winner. 
Do YOU believe he has what it takes? Leave a comment below and let me know who you think will win the Belmont Stakes.