Superfecta Strategy Review
---
As odd as it seems, this Superfecta Strategy Review did not include any actual wagering for the day. The purpose for the day was to focus in on the Superfecta at three different tracks. I've often wondered if the actual field size plays a major factor in Superfecta payouts.
For this experiment, I wanted to see what the typical payouts were for a Superfecta wager that only involved a field size of 6-10 horses per race. It was time to construct spreadsheet for this experiment. 
I turned my attention to the following tracks running the afternoon of July, 27th, 2017: Delaware Park, Gulfstream Park, and Saratoga Race Course. The following spreadsheet is based on the ever-popular $0.10 Superfecta wager (If you have deep pockets, by all means, play it for a $1.00). 
The wagering strategy is based on using one Key Horse in the win slot and the ALL Button for the second, third and fourth slots. 
Anytime you notice an n/a in one of the cells that will represent there were less than 6 horses competing in the race or there was a refund involved due to a late scratch.
As you can see, a field size between 6-8 horses had minimal returns on the payouts with any of the tracks that day. However, with a field size of 9 and 10, the Superfecta payouts were substantially larger.
If you take a look at the statistics from Race #5 and Race #7 (both with a field size of 9 horses) at Delaware Park, the payouts are very nice for a $0.10 wager. The cost for each ticket would have been $33.60 which would've returned $821.19 and $558.50 respectively. I'll gladly take that kind of return every time.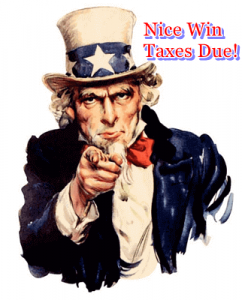 Race #5
Finished with the following odds: 7-2/22-1/12-1/19-1. The post time favorite was listed at 9/5 odds and was out of the money (didn't finish in the top 4). This was a favorable race to wager on and not bad with a 7/2 horse on top and returning $821.19. Just a friendly reminder, any win of $600.00 and over will have to answer to the Taxman!!!! 
Race # 7
Had different results with a long shot winning the race. The odds for this race finished: 22-1/14-1 /9-5 /11-1. The post time favorite finished third (in the money) at 9-5 odds but still had a nice return of $558.50 again on a $0.10 wager. 
Superfecta Wagering Summary
---
In conclusion, on shorter fields (anything smaller than a field of 8) I'll pass on playing the Superfecta. I'll focus on that type of bet for fields of either 9 or 10. Of course, money management plays a big factor in any type of wagering so keep that in mind along with finding value in a race.
Once you've identified your key horse through your data based decision, it may be wise to also place a straight Win Bet or play an Exacta as well.