Friday, May 3rd, 2019 the Fillies will be running for the Lilies in the 143rd Kentucky Oaks.  The 2019 Kentucky Oaks Race at Churchill Downs in Louisville, Kentucky starts off the Kentucky Derby Weekend Events. This year's Kentucky Oaks will be run at a mile and eighth and a field of 14 horses.   

2019 Kentucky Oaks is Race 11 on Churchill Downs race card and Post time is at 6:12 pm EST.  This years'2019 Kentucky Oaks Purse has increased to $1.25 Million for the three-year-old Winner.  Last years' 2018 Kentucky Oaks winner Monomoy Girl won a purse of $1 Million.
Bellafina is this year's morning line favorite with 2/1  odds.  Bellafina has won her 3 out of 4 of her last races, but so has Lady Apple.   Lady Apple morning line odds are 20/1 which might be a nice long shot to put in an Exotic Wager.  Lady Apple speed has increased over her last 4 races, she's one of the horses I'm keeping an eye on.  
Here is the 2019 Kentucky Oak Field and Morning Lines:
Interesting Fact on Bellafina she has won 6 out of the 8 career races and only came in second once.  So where did she place in her 8th career race?  She came in 4th place which so happened to be at Churchill Downs in the Tito's Handmade Vodka Breeders' Cup Juvenile Fillies. 
Jaywalk won Tito's Handmade Vodka Breeders' Cup Juvenile Fillies at Churchill Downs.  Jaywalk is another filly I would consider in my wagers, her highest speed figure of 105 beats out Bellafina of 104. 
STAT Race Lens is a handicapping tool that I like to use and it's FREE. When you place AT LEAST $10 on the track card that you purchased or $25 on any track if you purchased the STAT Race Lens Day Pass TVG.com will refund you the cost.  STAT Race Lens which is offered by TVG.com has an interesting Race Projection for the 2019 Kentucky Oaks Race.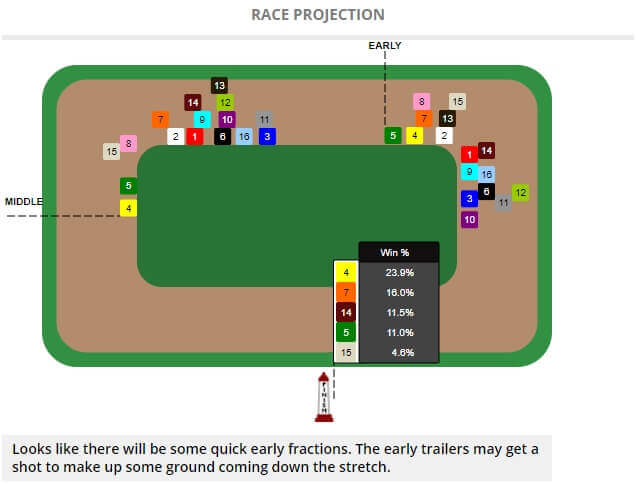 Kentucky Oaks Signature Drink "Oaks Lily"
---